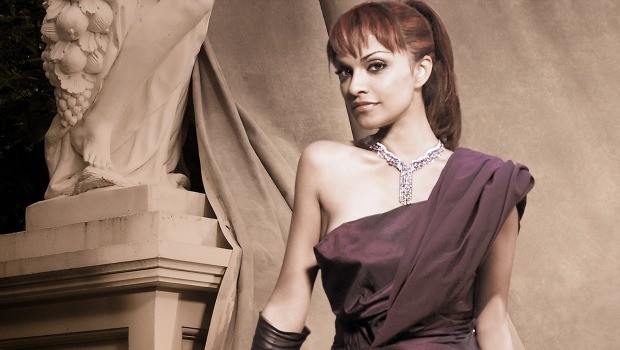 For those of us who have been patiently waiting in expectation for a new release from soprano Danielle de Niese, our want is now finally relieved today, for her latest album,
Beauty of the Baroque
, is released today. I first consciously listened to this soprano in a video on YouTube in which she sang Handel's famous aria
Lascia ch'io pianga,
and I have faithfully listened to her since then at any time I am given the chance. Her voice is quite clear, which makes her a natural choice for the Baroque repertoire.While it is interesting to note that she has recorded a pleasant variety of music on her solo offerings, I am glad to see that she has returned to this period. Personally, I am enamored with Baroque music, which is the primary cause of my elation at this release, but we may also rejoice at the quality of collaboration that her two forays into this specialist's field of music have brought to our ears. To my enduring delight, her debut recital of works for recorded media featured the formidable and revered
Les Arts Florissants
under the direction of their distinguished and renowned founder, William Christie. In my opinion, which I shall admit is a trifle biased, such an early forging of relations between such a performer and and almost peerless ensemble is a definite indication of the sort of talent that de Niese possesses.
In this new release, we are promised much of the same magic that exists in such a pairing as the one I have just described, for her new collaborators are Harry Bickett, the esteemed Handel specialist, and The English Concert. Judging from Bickett's recent triumph at the Metropolitan Opera, where he conducted
Rodelinda
with Renee Fleming, Iestyn Davies, and Andreas Scholl, this promises to be a sumptuous and elegant program. Indeed, the album itself seems to exude this latter quality in every aspect of its being, for one can see such a trait in the title of the release and the artwork that has been utilized. The music itself lends itself to this description, and we begin to notice a hint of regalia that has been imbued into the album. After having released a disc of Handel arias, de Niese does not shy from including that famed composer in this new recording, and we find her singing arias that exhibits her in a more mature light than we have previously noticed her because of the roles she presently sings. The track list is as follows.
John Dowland (1563–1626)
1. Come again, sweet love doth now invite [2:42]
2. What if I never speed? [2:31]
George Frideric Handel (1685–1759)
3. Aria "Ombra mai fu"
(Serse)
[2:54]
from
Serse
, Act I
Libretto: anon., after Niccolò Minato & Silvio Stampiglia
4. Air "Let the bright Seraphim" (Israelitish Woman) [5:34]
from
Samson
, Act III
Libretto: Newburgh Hamilton
Henry Purcell (1659–1695)
5. "Thy hand, Belinda – When I am laid in earth"
(Dido)
[5:07]
(Dido's Lament)
from
Dido and Aeneas
, Act III
Libretto: Nahum Tate
George Frideric Handel (1685–1759)
6. Air "Heart, the seat of soft delight"
(Galatea)
[4:10]
from
Acis and Galatea
Libretto: John Gay and others
Claudio Monteverdi (1567–1643)
7. Duet "Pur ti miro"
(Poppea, Nerone)
* [4:35]
from
L'incoronazione di Poppea
, Act III
Libretto: Giovanni Francesco Busenello
8. Quel sguardo sdegnosetto 3:01
from
Scherzi musicali
George Frideric Handel (1685–1759)
9. Duet "Io t'abbraccio"
(Rodelinda, Bertarido)
[6:53]
from
Rodelinda
, Act II
Libretto: Nicola Francesco Haym
10. "Guardian angels" (Beauty) [5:59]
from
The Triumph of Time and Truth
, Act III
Libretto: Thomas Morell
Giovanni Battista Pergolesi (1710–1736)
11. Duet "Stabat Mater dolorosa" [3:56]
from
Stabat Mater
Libretto: attrib. to Jacopone da Todi
Johann Sebastian Bach (1685–1750)
12. Aria "Sich üben im lieben" [4:38]
from the Cantata
Weichet nur, betrübte Schatten
, BWV 202
13. Aria "Schafe können sicher weiden" [4:46]
from the Cantata
Was mir behagt, ist nur die muntre Jagd
, BWV 208
I am fairly certain that I know what I shall be purchasing with my available
Amazon
gift cards today. I neglected to previously mention that countertenor Andreas Scholl joins de Niese on three of the tracks on this disc, which is a welcome occurrence, and I maintain high hopes for this release. Depending upon what other recordings are released this year, this may well be one of my favorites. Danielle DeNiese is performing a
concert at (Le) Poisson Rouge in New York City
on January 23, 2012, to coincide with the debut of this album, and the event will be streamed live from (Le) Poisson Rouge's website.
I express my immense ingratiation to all of you who continue to peruse my posts concerning opera, and I pray that all of you are extraordinarily blessed as the new year greets us with all of the possibilities and happenings that may occur. You are quite at liberty to post a comment on any of my posts, and you may also subscribe if you are so inclined.
-Tyler.